From radio-friendly rapper to staunch junglist soldier, Rebel MC's musical journey has been a transitional one.
When the happy-go-lucky single 'Street Tuff' reached #3 in the UK charts back in 1989, the message was upbeat and care-free. Yet by the time his 'Black Meaning Good' album landed just 2 years later, the tone had developed into one jaded by an experience of life in Tottenham; a North London borough with a long history of racial divide and tensions that erupted once again in 2011 following the police shooting of Mark Duggan.
'Black Meaning Good' spoke of an environment of police violence and oppression against black minorities. A point that was amplified on the album by interludes of dialogue from foul-mouthed police officers. In representing this fractious environment, Rebel MC shifted away from the charts and towards the underground.
He wasn't the only artist to have beef with British society during this time. The emerging Britcore scene was an aggressive and hard-edged take on Hip Hop that was galvanising itself into a voice for the similarly angry. Where Rebel MC's music differed however was the huge influence it drew from roots reggae and sound system culture. This, combined with up-tempo Hip Hop breaks and bottom-end bass formed a foundation for the base ingredients of Jungle.
Throughout 1992 those ingredients infused further into a fully realised new genre of music. By the end of the year however, the Rebel MC name seemingly disappeared and you could be forgiven for thinking maybe Michael West, the man behind the name had given up on music altogether…
Or had he?
During the festive period of 1992, a mysterious white label identified simply as 'X Project' surfaced which fittingly sampled the infamous 'Walking In The Air' theme tune from The Snowman (A supposedly "feel-good" frolic that left many-a-80's kid traumatised… the ending still gets me!). Here, the cherubic tones of Aled Jones were juxtaposed against raggamuffin chats, frantic 150bpm drums and rib-cage rattling sub-bass in a tune that could no longer be described merely as a fore-runner to Jungle – This 'was' jungle, belts and braces.
'Walking In The Air' would be followed by another 4 releases bearing the X Project moniker, and yet still only the most keen-eyed enthusiast reading the small print would notice the words "written, produced, and mixed by Rebel MC" printed at the bottom of the label. It would seem that West had eschewed the limelight of the stage for a more understated role behind the mixing desk where he was more comfortable pushing a wider movement rather than himself.
It was amidst the full-swing of Jungle's golden age in 1995 that the first Congo Natty record would surface; the massive jungle anthem 'Champion DJ' (At least I think that is the first release… Congo Natty's back catalogue is as confusing as it is extensive). Champion DJ had all the typical trademarks of West's production – roots culture and turbo-charged junglistic beats, replete with rewinds and sound system toasting courtesy of Top Cat.
That golden age was short-lived however, and it wasn't long after that Jungle mania began to fade and evolve into the more streamlined, less aggressive and less raggamuffin sound of Drum & Bass. West however remained a committed Junglist. He did respond to the changing times by adopting 2-step drums and lifting cheeky Hip-Hop samples to excite the new skool jump-up crowd, but he still retained his Rastafarian sensibilities and continued to produce the deadliest of bass. A Congo Natty record of the late 90's can be spotted a mile off.
Whether it was Hip Hop, Hardcore, Jungle, or Drum & Bass… the music of Rebel MC always carried his trademark sound of the dancehall. This mix covers his work from 1992 to 1998 and is a tribute to what he achieved under his X Project and Congo Natty guises. So without further ado, get ready to flash the lighter, puff up yer chest, and sing out loud:
"When I'm weak, your telling me that I'm strong,
When I'm right, you're telling me that I'm wrong,
Now I see, and now I understand,
Now I see, I see your wicked plan, I'm a Junglist."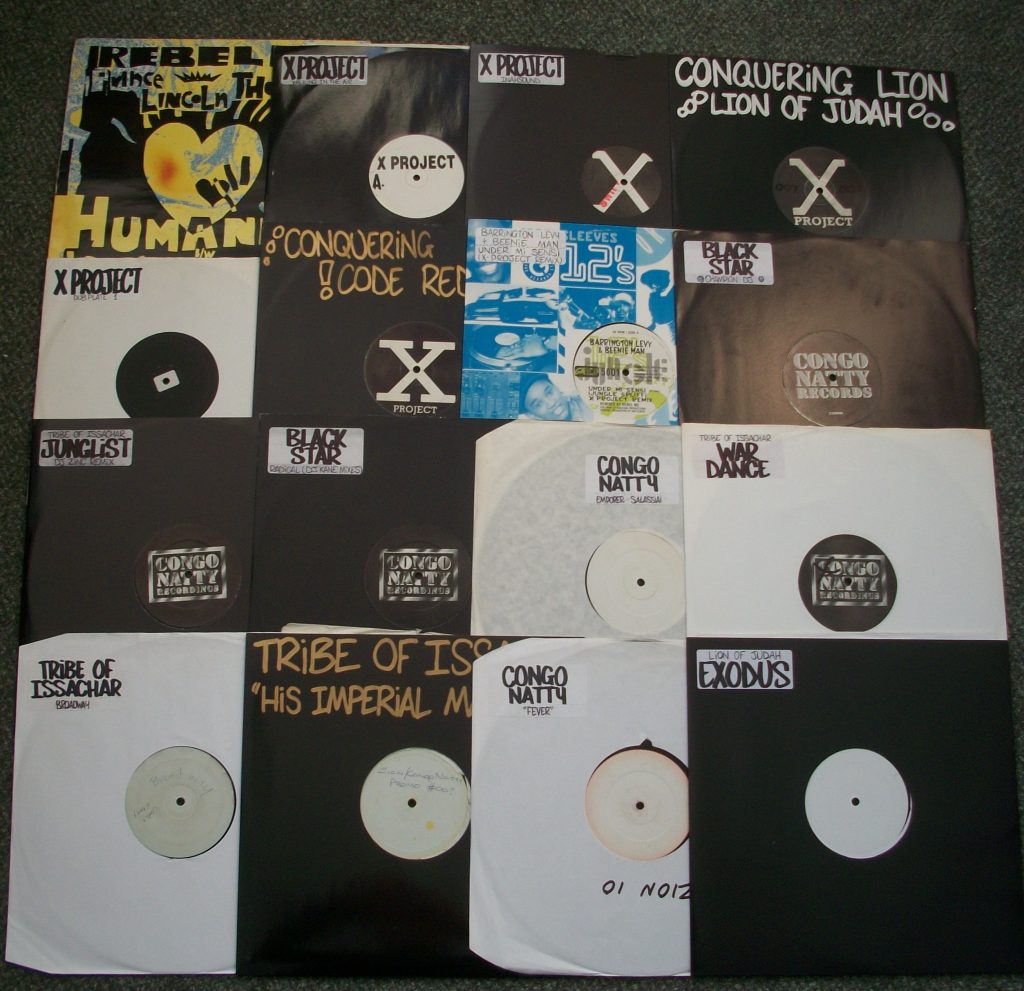 Download "Congo Natty Special"

Eazyflow - Congo Natty Special.mp3 – Downloaded 893 times – 139.82 MB